Cannabis Education, Resources and Community.
The Strainprint Community was built intentionally for users of all knowledge levels, and meant as a place to learn, engage, and support.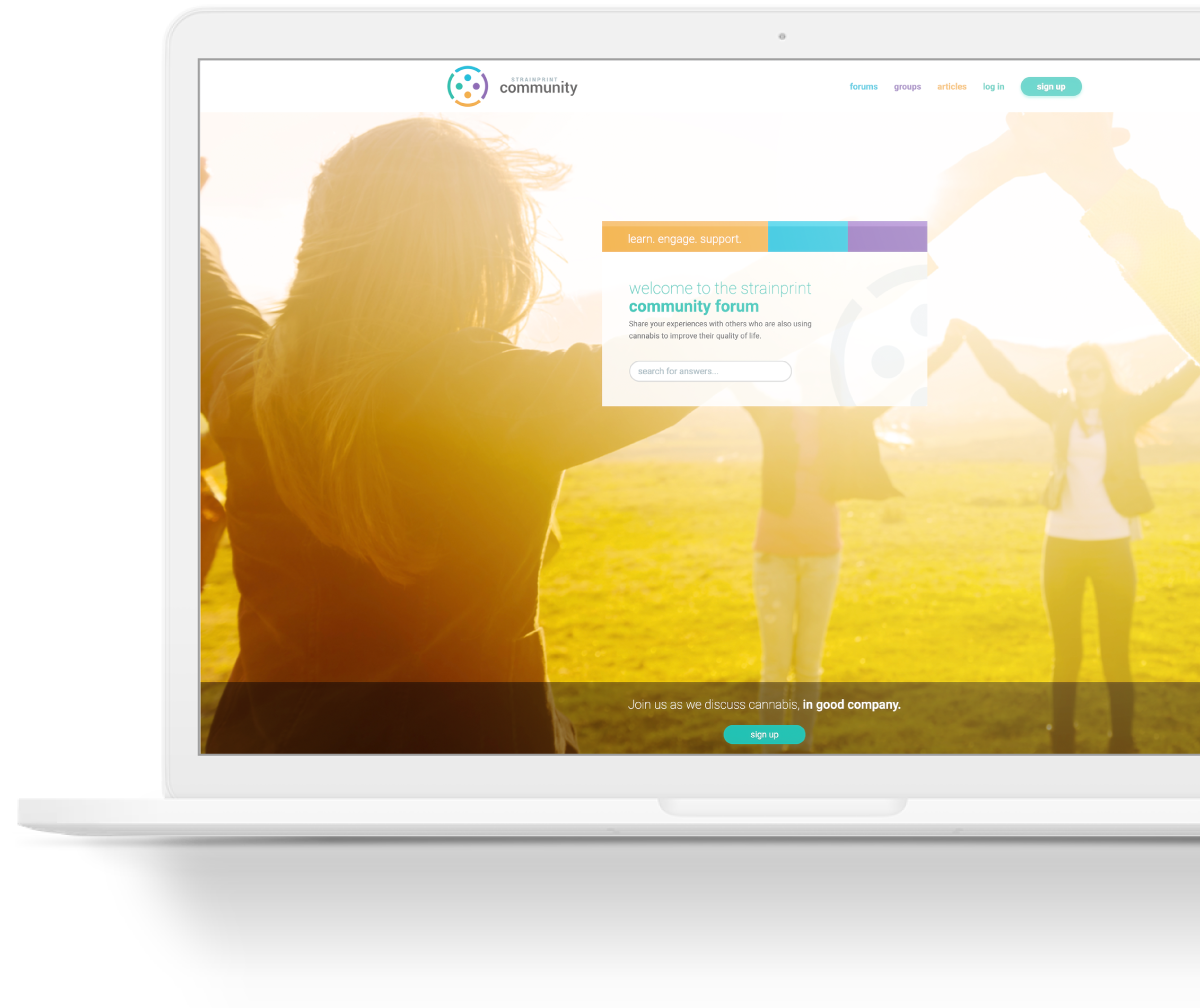 Someone out there had the same question.
Deciding to try cannabis as a medicine can be a scary and often lonely experience. Your doctor probably doesn't know much about it, and going through the steps to simply try it can be very daunting. That's why we built this community. If you're unsure of where to begin, someone else has been there. If you don't have a ton of support around you, someone else has felt that loneliness.
The Strainprint Community is run by patients. Good people who have struggled and suffered but have found relief from cannabis, and want to help others feel better.
Many find it difficult to even ask questions, wishing to remain private. The community platform was built with that in mind. It is a safe place you can go to whenever you want, where you can be as anonymous as you wish and your information won't get into the hands of any third parties.
It's Strainprint's belief that sharing experiences are an essential part of cannabis' global acceptance as a medicine. That's why the anonymized data we collect, whether through Strainprint App or special surveys, helps further the study of cannabis and legitimize its use as a medicine.
We hope you join and connect with others! (And if you've already downloaded the app, simply log in with the same username and password!)
Community Features
A Safe Place
Secured, encrypted and hosted in Canada
Medically focused
Designed by patients for patients
Curated content, including articles and videos, from industry leaders and members
Part of the Strainprint ecosystem Integrated with Strainprint's Journaling App
Driven by data from Strainprint Analytics
Gamified through Strainprint Rewards
Interested in working with us?
For pricing on advertising, sponsorships, or research studies, please contact our sales team for a customized quote.
Advertising
Increase brand exposure
Connect with your target market
Support your marketing initiatives
Competitive pricing
Conducting Research
Do you want to conduct research on Cannabis use? Strainprint has secured opt-ins for users who are looking to participate in Cannabis related marketing, research and clinical studies. Strainprint's Community has the audience you're looking for when it comes to Cannabis research.
Sponsorship Opportunities
Engage the Community with a mix of different content types, typically much more effective than traditional ad banners or boxes. Strainprint offers sponsored content including:
Articles
Quizzes
Surveys
Videos
Infographic