Advanced Medical Marijuana Data and Analytics
Based on real-time data from actual patients, Strainprint's sophisticated analytics platform gives producers, clinics and researchers the information they need to make informed decisions about what to grow, what to prescribe and what trends are on the horizon. Think of Strainprint as your own cannabis market research department.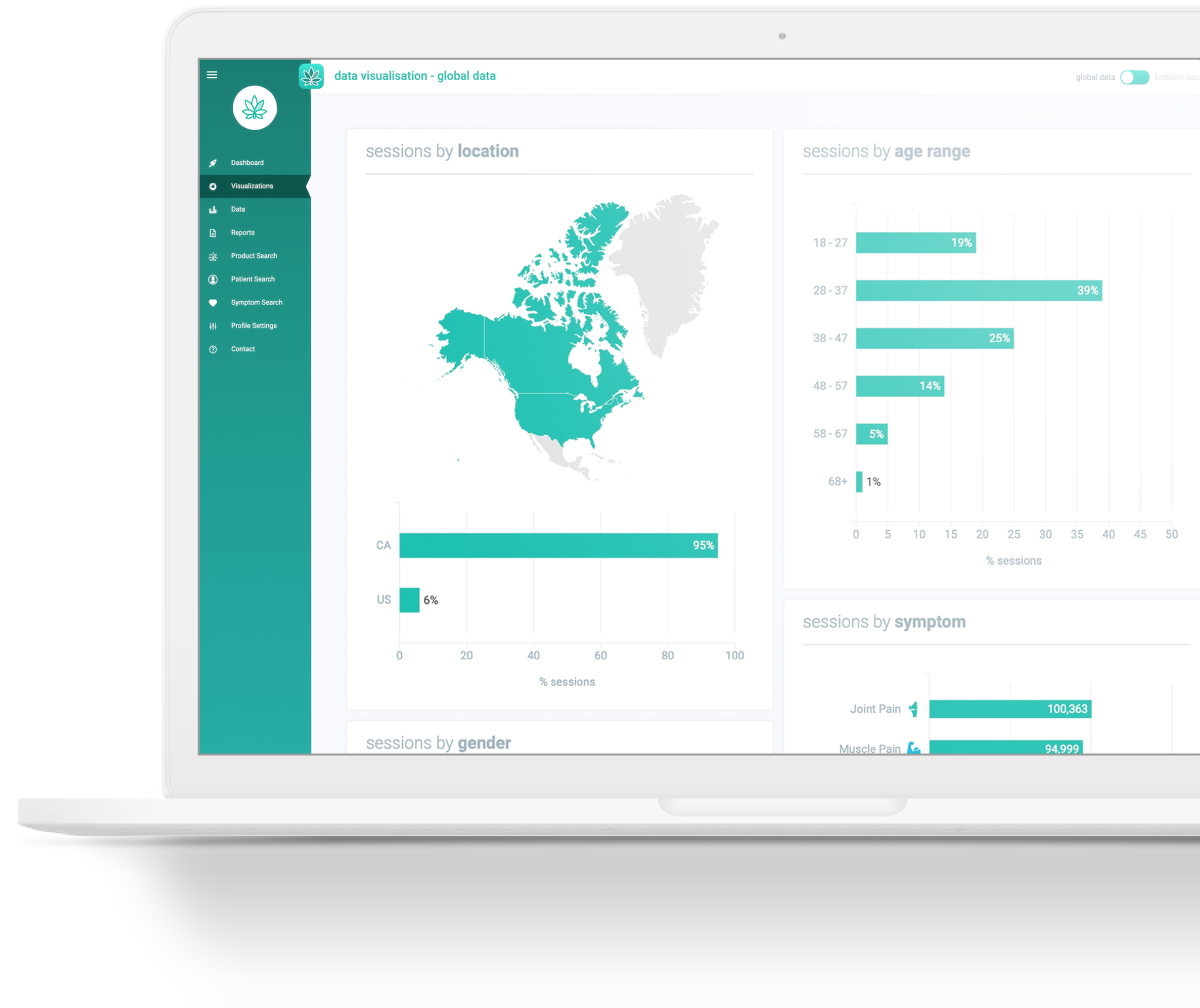 Grow and sell the cannabis products your customers actually want
Gain Valuable Consumer/Patient Insight
Access Market Research
Take A Strategic Approach To Genetic Selection
Reward Patient Participation
Optimize treatment guidance
Monitor Treatment Efficacy
Visualize Your Patient Experience In Custom Reports
Conduct Clinical Research
Access Symptom-to-Strain Decision Support
Real-time Medical Data
Strainprint's data comes from real people using cannabis and tracking their medical outcomes against treatment for more than 300 conditions and their associated symptoms. You're getting medical records - not cannabis reviews.
Easy-to-use Interface
A robust data platform only becomes a valuable research tool if it's intuitive and optimized to address the challenges you face. Our user-friendly dashboard makes it easy for anyone in your organization to perform in-depth cannabis data analysis to solve your real challenges.
Lab-verified Strain Database
Pre-configured with thousands of lab-verified cannabis products, including ALL medical and adult-use products in Canada and a variety of U.S. States (where available).
Customized Report Generation
Extract, structure and present raw data in easy-to-read charts and graphics. Discover hidden trends, patient behavior changes, and top-ranked strains based on user interaction and efficacy.
Patient Privacy Protected
Strainprint is HIPAA/PHIPA/PIPEDA compliant - which is a lot of letters that mean we adhere to strict health information privacy laws and that all patient information is collected anonymously via a secure and robust web-based analytics platform.
Ongoing Consumer Engagement
The Strainprint Loyalty Program keeps cannabis users engaged and encourages repeat tracking - which means ongoing data points for Analytics customers.
Understand Cannabis Better
The anonymous patient data that Strainprint Analytics gathers and analyses is made available to cannabis industry stakeholders via a tiered subscription. Here's how you can benefit.
Understand consumer buying habits
Identify opportunities for product development and innovation
Compare your product offering to your competitors
Optimize product selection, formulation and margins through real-time data
Conduct targeted market research to identify growth opportunities
Increase consumer engagement through loyalty rewards
Use real-time data to determine optimal treatment
Compare treatment options and strain efficacies
Perform detailed queries
Run clinically-focused studies
Create custom patient surveys
Get 360-degree view of patients' progress
HIPAA/PHIPA/PIPEDA compliance meets government and healthcare requirements for patient privacy
Access more than 6 million real-time patient data points
Conduct clinically-focused studies and trials
Study specific interactions and behaviors with a sandbox cohort dataset
Geo-tagged data sets allows for segmentation analysis based on patient interactions and treatment outcome